We are all invited to participate in God's healing, restorative, and redemptive work in the world. Part of our calling is to discern how God is inviting us into that work–what are the particular gifts God has placed within us to share with the world? Where are the particular places God is calling us to do this work? How do we discern God's timing in our decisions about vocation? The Ministry Resource Center provides those who are discerning ministry with a community of friends, mentors, and resources to confirm and sustain their calling.
In addition to mentoring, we also offer assistance in crafting resumes and practicing for interviews. We host vocational workshops and maintain a robust job board filled with potential ministry opportunities.
Join our Vocational Workshops
Our vocational workshops are centered in spiritual formation. Together, we practice discernment questions that guide us toward the virtues of faith, hope, and love. Participants explore the questions: Who am I now? Where is God calling me to go? How is God leading me there?
In the past, vocational discernment workshops have included career coaching, resume resources, LinkedIn training, and personality assessments. We have provided students with access to a WEPSS Enneagram assessment and DiSC assessment.
Email us for more information about upcoming sessions!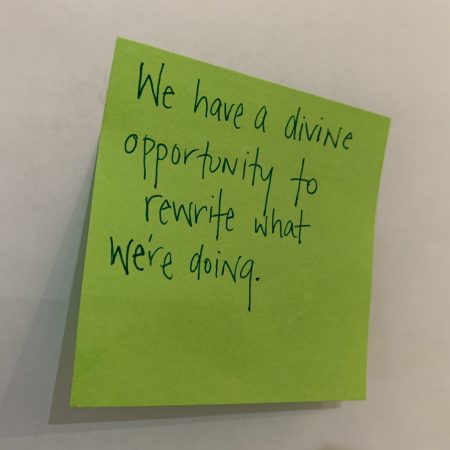 Have an upcoming interview?
Schedule a practice interview session with us today. We will help you craft your story. Practice interviews involve MRC staff plus an experienced minister who matches your area of ministry interest.
We want to empower you to tell your story well and with truth.
"True discernment is not only a matter of reason but also a matter of spirituality. It involves every aspect of our person, from emotion to analysis, from desire to resistance, from personal will to personal prayer."