Mentoring
Opening My Eyes to New Possibilities
When I accepted my position at Westwood Christian Church in June of 2020, I was nervous. I had never been a lead pastor before and almost no one has done this kind of work in the midst of a pandemic before. Leading a church is hard enough. Doing so in the midst of a turbulent election year would have been about as much as I thought I could handle.
Throwing in Covid could have pushed me over the edge before I even started. What helped was knowing that I wasn't in this alone. 
In addition to a wonderful group of elders, my rock-star administrative assistant, a loving family, and a number of devoted volunteers, I have been blessed by the formal mentorship program through the MRC. I got paired with another Lead Pastor, Derek Sweatman, just before accepting my position and his support has been invaluable throughout my first year. 
Mentoring helped me lean into the grace of God and lead my congregation in a more genuine manner. Early on in my time at Westwood, Derek encouraged me to watch a film titled Godspeed. In it, I learned about taking time to move slowly, getting to know the people of my community. Instead of leaning into the pressure to perform, I leaned into the work that God was doing in and around us. I've watched this hour-long film three times over the last 15 months — whenever I could sense that I was putting too much pressure on myself, and not being content with patient, slow, and people-focused ministry. Reflecting on that film with Derek has been vital to my growth through the last year. 
A major theme of the film is learning to "walk the parish," which means to walk with the congregation and get to know them intimately. For me, that has meant listening to the lived experiences of my church in Madison, WI, but also deeply listening to their history of the church. It's easy for me to get puffed-up about my role in ministry. I have an MDiv; I have been in ministry for over seven years; and five of those years were spent in New England at a very large church. Yet, I have learned that the platitude is true: they really don't care what you know until they know you care. They won't know that I care until I pay deep, undivided attention to their concerns, and allow them to guide the conversation. As I listen to the stories of my church and talk with the people who have been here longer than I have been alive (seriously, our founding minister still attends at 93 years old) I am filled with compassion. I am reminded that I don't have all the answers. It led to my realization that, in my sermons, I often find myself answering questions that no one is asking. Walking with my parish has helped me to learn what my congregation is seeking and how I can help.
Intentionally investing my time in this way doesn't only help me. If I could be so bold, it also helps them. My time investment communicates to them that, while I have much to learn at only 31 years old, my care for them includes the desire to learn. Recently, I was delivering a DVD of our most recent virtual service to a 91-year-old matriarch of our church named Maxine. As I walked into her apartment, her first words to me were, "I don't know if you're getting better or if I just like you more." I responded, "Well, it's probably a bit of both." Surely, I was getting more comfortable preaching to this new congregation, but our weekly DVD hand-offs provided lots of time to get to know one another. Our relationship helped her realize how much I cared for Westwood, and she became one of my first real friends at our church. Maxine recently lamented to me that she's afraid she'll never get to hear me preach in person because of her failing health. I doubt she said that because I am a great preacher, but rather because I took the time to care.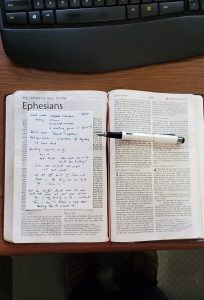 Walking with my parish has also helped me alleviate what was becoming an anxiety inducing part of my job: sermon prep. After months of hearing me comment on my unfinished sermons on Friday afternoon or asking for his opinion on them, Derek persuaded me to just get up and talk. A manuscript preacher at the time, I was anxious to just speak off the cuff. Yet, Derek made a good point – in a room built for 150 people, "the guy on a stage behind a pulpit reading a manuscript" to a group of 30 is awkward. I conceded and tried his suggestion, and the results have been amazing. It changed the way I preached and the way we learned together in the preaching moment. 
In the weeks since I changed my preaching style, I realized that I was misappropriating my ministry. I thought that my sermons were the centerpiece of Sunday morning. They are not; my community and their spiritual formation are. Certainly, preaching is formative, but it is only piece of the larger puzzle that Eugene Peterson calls "a long obedience in the same direction." However, I treated it my sermon as if was not just one part, but the whole. Even before my sermons were completed, I knew what I wanted to say. I obsessed over how I wrote down exactly what I wanted to say, even if I was only going to reference it. Sermon writing was taking hours longer than it needed to, and it led to missed opportunities to engage with my church and with other organizations in Madison. In Godspeed, Matt Canlis describes an encounter with his mentor after delivering a sermon on Sunday. His mentor said, "Your sermon should have been 10 minutes shorter." Matt replied, "But, they deserve more on a Sunday." His mentor shook his head and said, "No. They need more on Monday."
My mentor, Derek, has been for me what Matt's mentor in Godspeed was for him. The impact that Derek and Godspeed have made on my ministry is evident in the life of my congregation and in the Sunday service, where we now look to and listen to each other. None of us are in this alone, myself included.